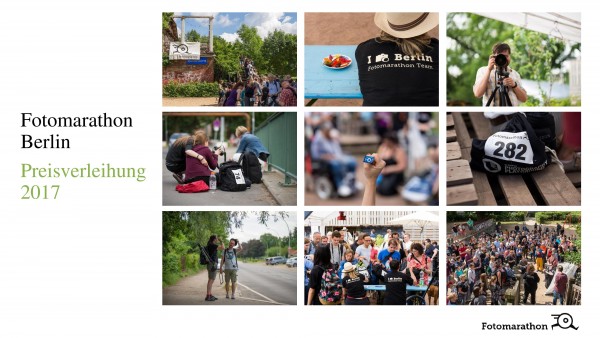 We congratulate all the winners of the 2017 Berlin Fotomarathon! The Jury had a hard time choosing, and they selected series which represented different styles of visual language: some series are abstract, others have a photo essay character, others have lots of humour and others have original and technically innovative ideas to interpret the topics.
We will upload the photo gallery during this week. We apologise for the delay – the small Fotomarathon team was super busy with the Exhibition and exhausted just afterwards! We promise all the winning series will be online over the weekend.
Members of the Jury came to the award ceremony and could explain the reasons why they liked the series -and they distributed a mountain of prizes among the winners.
We thank the members of the Jury and to our generous Partners for recognising the creativity and effort of all winners with their products.
The date for the next Fotomarathon is set for 16. June 2018 -so you can mark your calendar already. If you cannot wait that long, then you can join us for a mini-Fotomarathon next October 7th. The registration is open and participation is limited to 50 persons.
General Category (includes digital analogue and mobile)
Place 01 | Startnumber 019: Erik Boß und Team
Place 02 | Startnumber 071: Martina Kress
Place 03 | Startnumber 080: Stefan Domin
Place 04 | Startnumber 006: Julia Krueger
Place 05 | Startnumber 039: Wilsson Kohnert und Team
Place 06 | Startnumber 228: Michaela Eberlin
Place 07 | Startnumber 286: Kathleen Ziemann und Team
Place 08 | Startnumber 023: Florian Schulz und Team
Place 09 | Startnumber 054: Volker Steinhaus
Place 10 | Startnumber 070: Diego Vasquez und Team
Analogue Photography
Place 01 | Startnumber 381: Frank Kress
Place 02 | Startnumber 385: Klaus Bombei
Place 03 | Startnumber 389: Volker Beck und Kathleen Ziemann
Mobile Photography
Place 01 | Startnumber 387: Juliane Seet
Place 02 | Startnumber 378: Frank Holznagel
Place 03 | Startnumber 216: Ajia Blüchler
Special Award Basis.wissen.schafft e.V
Startnumber 039: Wilsson Kohnert und Team (also 5th place in the general category)
People's Choice Award
Startnumber 080: Stefan Domin (also 3rd Place in the general category)