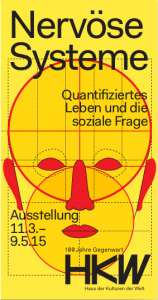 This year we have a special mini-fotomarathon in spring, on Saturday, March 26th 2016, during Easter Weekend, as an official partner event of the exhibition "Nervous System: quantified life and the social question".  Nervous Systems  is an essay exhibition with artistic works, newly commissioned productions and contextualizing materials, organised by the Haus der Kulturen der Welt in collaboration with the Tactical Technology Collective, co-curated by Stephanie Hankey, Marek Tuszynski and Anselm Franke.
In a premiere -countering many years of closely guarded secrets around the Fotomarathon's main theme- we can say that the motto of this mini-fotomarathon will be inspired by the objects, installations and narrative of the Nervous Systems exhibition. To help participants get inspiration from the topic of the exhibition, the fee to the Fotomarathon includes free entry to the exhibition. There are only 50 places available for registration.
Participants will have a chance to visit the exhibition in their quest for inspiration. A jury will select six photographs to be exhibited during the European Month of Photography in October.